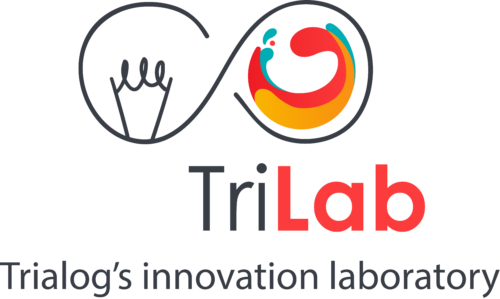 Because innovation and ideation are not practiced alone
"The TriLab is born from the belief that the development of research and innovation projects is essential for Trialog. This key activity enables us to acquire new and to enrich our offer of services. A solution such as the TriLab had to be found to make this synergy more sustainable."
"The Trilab is a place where ideas spring and meet. It enables all members of Trialog to exchange views and build together engaging projects. It displays a showcase of our expertise to our partners and clients."
One of the TriLab's objectives is to carry out technology intelligence. Our ambition is to be able to identify and understand the next waves of technological innovation.
Each topic is examined inside the TriLab in-depth and in teams, thus allowing stakeholders to acquire expertise in the topic. We want to make the TriLab a space of exploration where team spirit and knowledge sharing prevail.
Because we are convinced that we learn by practising, our goal is to turn the best ideas into proofs of concept. We give to our consultants, who originate these ideas, the opportunity to carry out their own innovation projects.
The work carried out within the TriLab contributes to the development of our employees' skills and enables Trialog to capitalise on innovative and future technologies. This helps to strengthen Trialog's expertise, enhance its offer and improve its quality of service.
Find out more about the research and innovation projects carried out by our teams as we speak …
Project semantic reasoner
Trialog
2022-02-03T15:38:10+01:00
LoRaWAN and IoT protocols
Trialog
2021-02-10T17:32:28+01:00
Research on Blockchain based transactions for eMobility
Trialog
2021-01-14T15:06:31+01:00
"The best way to predict the future is to create it."
"When two forces unite, their efficiency double."
"Do not go where the path may lead, go instead where there is no path and leave a trail."
"I am always doing that which I cannot do, in order that I may learn how to do it."
"Coming together is a beginning. Keeping together is progress. Working together is success."
Trialog has always believed that each person can be a developer of ideas and improvement. This is the basis of the TriLab, since it is the result of the initiative of its employees. The objective is to enable teams to gather around a common interest and to pool their ideas and complementary skills from an innovation perspective. The TriLab's communal approach fosters collective intelligence and encourages informal, social and cooperative learning through creation by sharing resources and knowledge.
The TriLab is, above all, a place dedicated to the expression of everyone's ideas and skills. One of the fundamentals of Trialog's innovation laboratory is to give people the freedom to be entrepreneurial. Trialog's employees initiate the projects themselves. When someone has an idea, he/she may present it and suggest that their colleagues join the project. Teams are built on the basis of initiative and volunteering. The TriLab allows us to fully express the energies and talents of our employees.
The TriLab acts as a kind of internal incubator that facilitates the emergence of innovative projects within Trialog. The laboratory will allow us to explore markets, test technologies, make prototypes and demonstrate the value of innovations internally but also for external actors. To support innovation, agile and scalable methods are used in the management of TriLab's projects.