The 24th and 25th of January 2017, the 9th International Security Forum will be held in Lille. During this major event, Trialog will be present on the IRT SystemX booth (D23).


As core partner of two SystemX projects about cybersecurity of C-ITS and autonomous vehicles, Trialog is one of the 3 SMEs invited to have a special talk about the role of such company in the CyberSecurity ecosystem.
Antonio Kung will hold a session on the January 25th at 11:20 called "Security and privacy integration expertise in the intelligent transport system domain"
Trialog is involved in the two following projects:
ISE project focuses on the V2X secure communication based on Trialog's security stack
CTI project is centered on the vehicle's cybersecurity and how to integrate this new problematic in the aerospace, automotive and railway domains. This project's first demo will be showcased on the booth.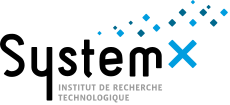 Please come and meet us at any time during the two days of the 9th International Cybersecurity Forum on the SystemX booth!